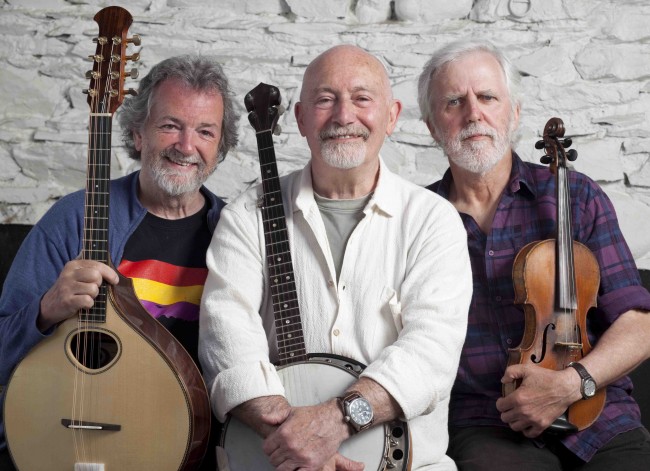 Sweeney's Men came from kindred spirits who took to the road as a moveable feast (but without much nourishment).  In the Summers of '64 &'65, Galway Joe Dolan (R.I.P) had Kerouac in his soul; Andy Irvine had Guthrie; Johnny Moynihan had been hitching around the musically rich parts of the country for years inspired by the traditional music and songs heard on the radio and in the few spots in Dublin where Trad players gathered. With them was the late Eamonn O'Doherty and various fellow-travellers. Busking and occasional sessions in bars kept them going until, in '66, they were fixed up with a summer engagement in Galway. Due to an amorous indiscretion by the lusty Dolan, the gig only lasted a couple of weeks. From the ashes of that gig came the decision to take "The show" on the road as an organised trio. Eamonn was in Galway for the occasion, so was asked to join them as their manager.
A few months into that bit of gallivanting they bumped into The Capital Show Band at Puck Fair. Des Kelly became interested in their commercial potential. Eamonn was due to go back to a job in Dublin so Des became the manager. Joe was reading "At Swim-Two-Birds" at the time so they picked the name Sweeney's Men and were launched as a proper professional group. A single, The Old Maid in the Garret, got into the Irish top ten but by then Joe had decided that the limelight was less attractive than his old allegiance to Israel where he had worked and travelled, and where the Six-Day War had just started.  Terry Woods was available to take his place and as Sweeney's Men was a string band with strong ties to Southern Appalachian music and he was steeped in that music, he fitted in very well and they went on to record, in '68, another successful single – 'The Waxies' Dargle' and an album 'Sweeney's Men' They were now being managed by Roddy Hickson and Gerry McDonagh.  Andy was off to the Balkan region on an adventure which would change the face of his musical development and, through his later collaboration with Bill Whelan, change the face of Irish dance shows.
Blues and Rock guitarist Henry McCullough (late of The People AKA Eire Apparent) was beginning to show an interest in Irish Trad, especially the more soulful slow airs, and there was quite a lot of association going on between the blues-heads and the "Ethniks".  So it came about that Henry agreed to replace Andy in the group, complete with electric guitar.  Among some narrow confines this was considered a desertion of patriotic cultural duty by the band.  Strangely no one seemed to comment on Henry's bravery in taking up with a "Ballad Group".  Anyway it was an enjoyable association that included a TV program "20 Minutes with Sweeney's Men" and culminated in a gig at Cambridge Folk Festival '68. While in England, Henry got an offer he couldn't refuse – to join Joe Cocker's Grease Band.
Al O'Donnell joined Sweeney's Men for a while, but they ended up as just Johnny and Terry who in '69 made another album "The Tracks Of Sweeney". Which was largely of contemporary material. Shortly afterwards, the band decided it had run its course, and broke up. The albums were on the Transatlantic label.  Neither of these albums could be described as commercial successes though, over ten years the first album, particularly, became a collector's item.  People consoled the band with the words " Ah ye were ten years ahead of your time".  The first album was reissued in '78 – "Sweeney's Men 1968" which also bombed. Some people suggested "Lads ye were 20 years ahead of your time". Then there was a compilation album on CD on the Demon label with most of the tracks from the first two albums.  There now exists a compilation CD containing all of the tracks recorded by Sweeney's Men plus some that have a connection of some sort or other. No doubt, somewhere, someone is mumbling "What was the name of that band in the '60's who were forty-five years ahead of their time"?
That was Sweeney's Men and what happened them was that they got together again for Andy Irvine's birthday gig in June 2012 in Vicar Street, and had such a good time and such a warm reception that they decided to do a few concerts together.
After the band had broken up (the original, not the reunion) they went on to play in various combinations (red flannel was in favour with the John Wayne fans) and outfits such as Steeleeye Span, The Woods Band, Planxty, De Dannan, The Pogues, Mosaic, Terry and Gay Woods, Last Night's Fun, The Fleadh Cowboys, Moonshine, LAPD etc.  Also Johnny did some touring solo and "worked" with Annie Briggs for a while and toured with Rick Epping, with Andrew McNamara and with Mark Gregory.  Andy's solo career has logged more circumnavigations of the world than any body known to science with the possible exception of the moon.
Sweeney's Men have often been described as a seminal influence on the revival of folk music in Ireland and abroad in the '60s, '70s and beyond.  One reason given is the interplay between mandolin and bouzouki (Johnny had introduced the latter to the Irish folk scene when he'd bought it from a friend, Tony Ffrench, who'd picked it up in Greece).  This had a lot to do with the Sweeney love of American Old-Time fiddle & five-string banjo music and the arrangements worked out for the Radio Ballads such as Singing the Fishing done for the BBC Third Program.
These were created by Ewan McColl, Charles Parker & Peggy Seeger in the late 50s & early 60s, and many of their songs, based on the trad music of these islands, found their way into the Irish repertoire.  Another feature of Sweeney's Men that may have appealed to people was and is their bias towards songs in modes like mixolydian and dorian.  Most of the melodies on their first album have a flattened or absent seventh or other notes missing.  All part of their antique charm; come and see them while they're still alive!
Appearing at:
Town Hall Theatre, Galway on Fri. 15th Nov
Set Theatre, Kilkenny on Sat. 16th Nov 
Vicar Street, Dublin on Fri. 22nd Nov
Triskel Christchurch, Cork on Sat. 23rd Nov