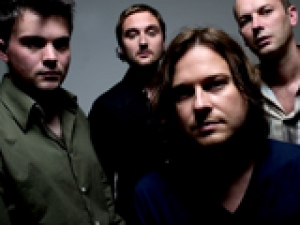 Band
The Devlins have always had the ability to produce compelling, understated musical gems and the release of their fourth album "Waves" looks set to cement their reputation as an Irish band with more longevity, creativity and credibility than most.
It doesn't seem like two years since the last gold-selling Devlins' album ('Consent'), probably because the band continue to appear on major film and tv soundtracks between records and tours. The band most recently contributed to the highly acclaimed "Six Feet Under" soundtrack for HBO and this Autumn feature in the new Mike Nichols blockbuster "Closer", starring Jude Law and Natalie Portman.
The first single from the latest album is a powerful, uptempo guitar track "Sunrise", suggesting the band took a different approach to recording this time around. "We set up to record in a very live way", explains bassist Peter Devlin. "Our recording studio lends itself to that, it's a big warehouse in Dublin's docklands". Singer / guitarist Colin Devlin continues "We worked the arrangements out the way we would for a live show, then we hit the record button. Previously, we've worked the other way around. I think this time it made for a more dynamic record which is great to play live". 'Sunrise' is undoubtedly the perfect soundtrack to summer. Fast, melodic and uplifting, it's three and a half minutes of live energy and excitement – "Something's happening, summer sun on your skin, I can feel it coming, surf's up baby let's begin" Colin sings over crashing cymbals and power chords.
This energy was brought to the fore in the final stages of recording by British mix engineer Danton Supple. "We really liked what Danton did when he was working with the English band Doves. He has also done some great work on the Coldplay and Starsailor records" says Peter, "and has an ability to make a performance sound epic".
The opening track, "Everything Comes Around" is a case in point. A dark mood created by swirling guitar loops and feedback is underpinned by a heavy, hypnotic rhythm track. The chorus explodes with a hook you'll be singing along to first time around.
The Devlins have upped the tempo and the their targets on this record. "It's a record that will sound great both on the radio and on the stage" Colin says enthusiastically. "Guy's (Rickarby) drumming really brought a lot of power and excitement to the record. But as people who saw the Consent tour already know he has a great understanding of the song and the dynamic. We intend to tour this record for a while".
The live show has played an important part in building The Devlins' career. Beginning with small club dates to promote their debut 'Drift' ('93), they steadily built a loyal fan-base, progressing to high profile support tours and then headline shows across Europe, America and Canada after the release of their second album 'Waiting' ('97). The release of 'Waves' sees The Devlins open a new chapter in an already highly successful musical career.