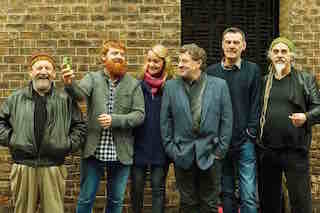 Stockton's Wing is back performing after many years away from the music except for the odd reunion show. After a very successful run of gigs at The Temple Bar TradFest 2016 the band have decided to get back to play venues and festivals. There are no immediate plans for recording but that is a consideration.
Stockton's Wing began their career in Ennis sometime in 1977 with Kieran Hanrahan on banjo, mandolin and harmonica, Paul Roche on Flute and whistle, Maurice Lennon on fiddle, Tommy Hayes on Bodhran, spoons and bones and Tony Callinan on guitar and vocals. The name Stockton's Wing came from a Bruce Springsteen song, "Backstreets" from the album "Born to Run". " Slow dancing on a moonlit street at Stockton's Wing, where desperate lovers park to meet the last of the Duke Street Kings."
The band signed a deal with Tara records after winning the Trad section of a music contest in Limerick. A group called U2 won the rock section.
Stockton's Wing first album, produced by Clareman PJ Curtis received rave reviews from national and international press.
Singer/songwriter Mike Hanrahan replaced Tony Callinan in 1979 after spending a few years in a duo called Tumbleweed with Maura O'Connell. In 1980 they released their second album on Tara "Take a Chance". The album featured some original music and marked the arrival of progressive, creative and original force into the world of Irish music. Following the success of the album, they toured extensively, creating a storm of enthusiasm at major Folk Festivals across Europe.
At Ballisodare Folk Festival in the west of Ireland, they met with Australian, Steve Cooney, who joined forces shortly afterwards, playing bass guitar and didgeridoo. In 1982, the Band released their third album "Light in the Western Sky" – a highly polished album which represented a significant shift in their musical direction, focusing more on the band's creative original material. The album featured two hit singles, written by Mike Hanrahan, "Beautiful Affair" and "Walk Away." It also featured a haunting composition "The Golden Stud" a combination of Aboriginal and Irish music. The album was produced by PJ Curtis.
Percussionist Tommy Hayes left the band in 1983 and was replaced by Fran Breen on drums and Peter Keenan on keyboards. He is now back again in this current line-up.
After listening to the band, a critic for the New York Times wrote: "they were eclectic, electric, passionate, personal, innovative and powerful." In 1985, a live album "Stockton's Wing Live-Take One" was recorded in Galway and Dublin, and produced by Bill Whelan, capturing that 'eclectic, electric' sound and enjoyed major success.
Tours of America, Canada, Europe and Australia kept the band away from recording studios until the autumn of 1986 when they recorded their fifth album "Full Flight". The album contained no less than four hit singles "Why Wait Until Tomorrow", "Avondale", "New Clare Revival" and "So many Miles". Their sixth album, produced by Steve Cooney received critical acclaim in America where the group headlined many major music festivals.
In the summer of 1988 they shared the stage with Michael Jackson in Cork. The following year they made a guest appearance with Sammy Davis Jnr. in Dublin as part of his world tour with Frank Sinatra and Liza Minnelli. In 1990 Stockton's Wing went on location to take part in the Noel Pearson/Jim Sheridan film production of the John B. Keane play "The Field" which featured Oscar nominee Richard Harris and John Hurt.
Beautiful Affair was voted into the top 75 songs in the history of RTE radio and Today FM voted the song no 7 in a top 20 all time poll of Irish songs.
In November 2003 Stockton's Wing held their first reunion concert in their hometown of Ennis, Co. Clare, which was a huge success with over 1200 people packed into the West County Hotel. In the words of the band's producer PJ Curtis "what an extraordinary, amazing, mind-blowing concert the Wing delivered last night. I'm still spinning from it. It was TRIUMPHANT! No other word for it. Such an incredible turn out… and the music and the vibe, Ronnie Dress too who was pure magic as usual, made it a NIGTH TO REMEMBER!!! It rates as one of the top gigs of the decade for me…"
Mike Hanrahan, Paul Roche, Steve Cooney and Tommy Hayes are joined by Clare musicians Tara Breen on fiddle, and Karol Lynch on banjo and mandolin.