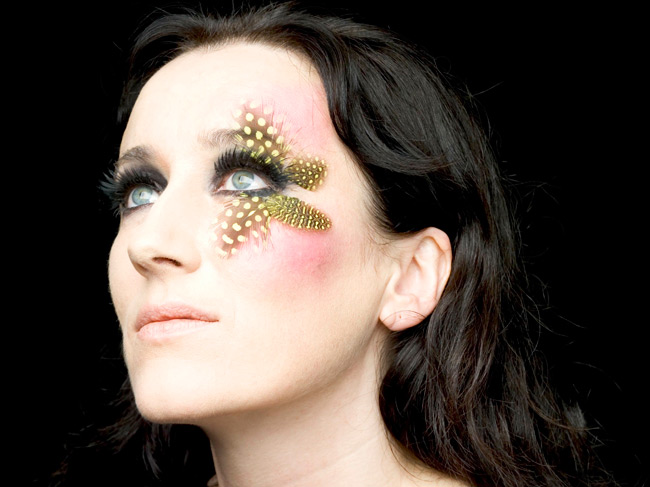 Singer/Songwriter
MüTTER
Mütter (German for 'mother') is the third album from Maria Doyle Kennedy, a marked departure from her 2001 debut Charm and the limited edition Skullcover set from 2004.
Four years in the making, recorded at many locations including Cork, Wicklow, Dublin and Monaghan, Mütter is a gloriously unsettling collection of classic pop melodies. Cuts such as Opera, Skin and Here You Come, are intensified by Kieran Kennedy's masterfully treated guitars and inventive keyboard backdrops. The timbre of the record evokes a folk-ambient hybrid, warm airs and carefully crafted words offset by wintry tinges of the Cocteau Twins and The Cure. The bristling Fuckability is the exception: swampy flowing rhythms spiked with Stereolab synth hooks, growling bass, and an unashamedly carnal vocal.
The album was, Maria admits, conceived under the influence of Chuck Palahniuk's 2003 coma fable Diary, the testimony of a woman on the verge of a nervous breakdown, and a valentine to the occult power of art. "I was chasing this record down when a friend handed me the book and said, 'I've read your album'," Maria says. "It became the key that unlocked the mystery for me. Faced with decisions to make about a song, I asked myself, 'What would be true to Misty's journey?' It was easy after that…"
Consequently, Mütter sounds twinned with eerie 70s cinema classics like Don't Look Now and Picnic At Hanging Rock. Mother could be a calm riposte to Lennon's primal scream; 40 Days is a minor key panic attack, the scratchings of a soul trapped under cryogenic ice; and the gorgeous Swoon is the point where Sandy Denny meets Sigur Ros. Elsewhere, the near baroque Call Me, co-written with Fergus O' Farrell, evokes the sound of Billie Holiday fronting a Michael Nyman score. Above all, this music is haunted and haunting, an album of shadows and unreal light whose after-effects linger long in the mind. Mütter is a body of interwoven songs as complex and fragile as a spider's web.
MARIA DOYLE KENNEDY: MüTTER
THE NEW ALBUM OUT MAY 18TH 2007 ON MERMAID RECORDS.
www.myspace.com/mariadoylekennedy
Maria Doyle Kennedy
TIMELINE
1964        Born Maria Josephine Doyle on September 25th in Clontarf, Dublin
1969        Parents move to Enniscorthy, Wexford
1969-78  Attends school. Learns to sing at parent's parties. Learns to play piano.
1978 – 81            Works at Bean Bag Factory in Dun Laoighaire Market, admires Supertramp.
1982 – 86            Moves to Bray in Wicklow. Attends Trinity College. Writes and records songs, later becoming a band called Hothouse Flowers.
1987        Love Don't Work This Way is released.
1988            Tours. Starts Black Velvet Band with Kieran Kennedy, marries him
and honeymoons in Crete!
1989            When Justice Came released.
1989 –91            Touring. Opens for Ten Thousand Maniacs in the USA, and also
The Neville Brothers and The Bodeans. Live dates in Europe and recording in London. The Commitments movie and album released.
1992            The King of Myself released.
1992 – 93            Touring with The Black Velvet Band. British debut at Town and Country Club. Refused entry to the US on visa issues, US tour cancelled.
1994            Live in Switzerland Collective released. Appears on the specially issued Elektra Records 40th Anniversary album Rubaiyat. Maria features on an album called The Lady Sings The Blues, alongside Aretha Franklin, Billie Holiday, Ella Fitzgerald, Nina Simone, Annie Lennox and others. Rod Stewart asks Maria to perform with him. She declines, for reasons best known to herself!
1995 – 98            Stars in the feature films: A Further Gesture with Stephen Rea (1995) and John Boorman's The General with Brendan Gleeson (1996). Works with Druid Theatre Company in Galway in the play Blue Macushla (1996). Stars in Mike Figgis film Miss Julie with Peter Mullen (1997), Bill Forsyth's Gregory's 2 Girls (1998). Recorded Chriost an Siol for the Sony Music album The Planet Sleeps, a collection of lullabies from around the world.
1998 – 2000            Works in television starring in many hit UK series including Father Ted, The Fitz and Queer As Folk. Also composed music.
2001            Released debut solo album Charm on own label, Mermaid Records. Appeared in the Art book/Movie If I Could Read The Sky. Toured in Ireland. Performed her song Stars Above on the Late Late Show in the wake of 9/11.
2002            Charm nominated for Best New Album of 2001 at the Meteor Irish Music Awards. Guest presented on Tom Dunne' Pet Sounds and Radio One's Mystery Train. Performed at Midem. Performed in Other Voices, Other Rooms live TV concert. Album of the concert reached No. 1 on the charts.
2003            Mermaid Films release an art documentary Golden Boy about the Irish artist Pat Scott. Maria tours Ireland and Europe extensively. Compiles an 18-song anthology of original and independent female artists called Sirens. Plays Glastonbury.
2004            Works on TV show Sorted for the BBC. Begins working on a new solo album.
2005            Tours Europe. Sells out Limited Edition release of Skull Cover album on Mermaid Records. Works on Hide and Seek with RTE. Maria continues working on new album.
2006            Maria spends five months recording new US TV series The Tudors, playing the part of Queen Catherine of Aragon alongside Johnathan Rhys Myers.
2007            Gourmet style touring suits, so Maria completes a sell out tour of Swiss venues, breaking the 25 year long standing record for biggest audience at the Café Mokka Thun. Finishes new album. Entitles it
                        MüTTER and sets about releasing it on May 18th 2007 in Ireland, along with an Irish tour.