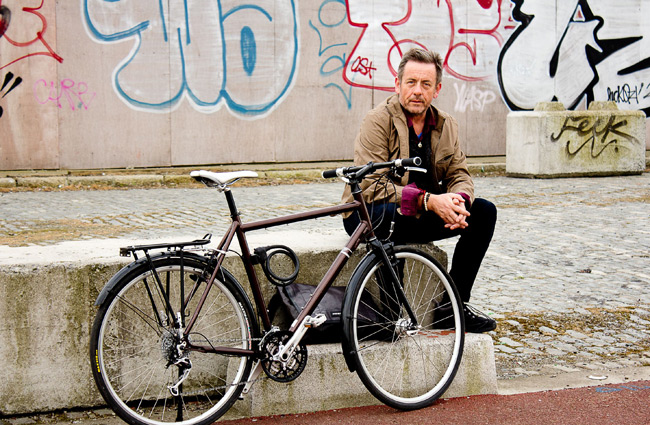 Singer Songwriter
Luka Bloom a.k.a Barry Moore
Having tread the boards of stages all over the globe, 36 years of craft honing has given Luka Bloom from Newbridge a place on the music map. Like many Irish familes then and indeed today Luka comes from a family of singers and writers first going on tour with older brother, Christy Moore, in 1969. It was a tour of English folk clubs and he was fourteen years of age. That was a long time ago. Turning 50 in 2005, Luka has brought his songs to clubs, theatres, fesitivals, bars, arenas and dives all over the world. From McGanns in Boston to The Tivoli in Brisbane to Red Hot Club in Newbridge.
Its 1987, Barry Moore flew out to America and Luka Bloom came back. Singing his songs around the US, gigging with The Pogues, the Violent Femmes, The Dixie Chicks, Hothouse Flowers, The Cowboy Junkies. He signed with Warner Music in Los Angeles, and made 'Riverside', 'The Acoustic Motorbike', and 'Turf'.
He made Salty Heaven in Birr Co Offaly 1997. Luka read about Ani di Franco and her independent crusade to make her own music in her own way, in her own time, released by her own people. This concept excited him and he went about setting up his own independent way of working. In 2000 Luka recorded 'Keeper of the Flame', an album of eclectic covers by great artists.
2001 was a busy year for Luka, he created Big Sky Records and www.lukabloom.com and released 'The Barry Moore Years', an album of early songs written before 1987. In the same year Luka made 'Between the Mountain and the Moon', an album of new original songs. 2003, 'Amsterdam' was released – a live performance from a great night in the Carre Theatre in Amsterdam. In 2004 'Before Sleep Comes' was recorded, nine soft songs for insomniacs.
Then came Innocence, a record released to celebrate Luka's 50th birthday. It was both written and recorded in his home in County Kildare. It's a very personal record, with a suitably intimate sound, featuring 11 new songs and one 21 year old gem, the City of Chicago.
And now, here we are in February 2007, releasing a very new and very different piece of work. TRIBE is the result of a year long collaboration with Simon O'Reilly, a man who has spent the last 6 years creating original contemporary music in County Clare. Simon produced and co-wrote TRIBE.
'I hope that you at this moment will think of yourself as a human being rather than as an american, asian, european, african, or member of any particular country. These loyalties are secondary. If you and I find common ground as human beings, we will communicate on a basic level'
Thus spoke the Dalai Lama. These words are a good way to describe how I feel about this new record TRIBE, and especially the title track.
In Autumn 2005, I was sent a copy of Tidelines, an album of original instrumental music composed and recorded by Simon O'Reilly. Its a lovely record, but I immediately was intrigued with the possibility that Simon and I might do some work together. I visited Simon's studio in County Clare, and we hit it off. So over the next months Simon created music and sounds, and posted them to me to my home in Kildare. Not once did we sit and play together. I listened to simon's sounds and created lyrics and vocal melodies based on his music.
After about 6 months, we felt we had enough material to make a record. At this point, I invited David Odlum to mix the record and record the vocals. david has recorded The Frames, and gemma hayes and many others for years. He works in Black Box, a remarkable rural studio in France.
The result is TRIBE, a unique project in my working life. I play guitar on only 2 tracks. For once in my working life I got to simply be a singer.
Simon produced and co-wrote the record with me; and we also have some lovely guest performers, including a recording debut of my son Robbie, who does a cool backing vocal on the title track!
Well done to all who helped complete this record. We hope the people love it half as much as we do!
Pedal on,
Luka Bloom
For further info on Luka click here for his wikipedia entry http://en.wikipedia.org/wiki/Luka_Bloom