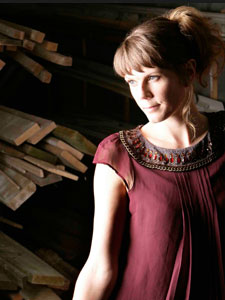 Singer Songwriter
Northern Irish singer/songwriter Juliet Turner has some hints of the old standbys in her folk-inflected music: Nick Drake, Carole King, even a bit of Kirsty MacColl in her vocals. However, Turner's blend of melodic and lyrical folk, pop, and electronics also sits nicely next to contemporaries like Beth Orton and Emiliana Torrini.
In September 1998 Juliet performed Julie Miller's song "Broken Things" at the memorial service for those killed and injured in the Omagh bombing. The song was later recorded for inclusion on the fundraising album "Across the Bridge of Hope".
In 2000 Turner released her second album 'Burn the Black Suit' on the independent "Hear This!" label and it went double platinum in Ireland. This album was voted one of the top 100 Irish albums of all time by Hot Press Music Magazine Readers. Turner continued to gig and build a solid fan base which resulted in being signed to UK based EastWest Records in 2003.
'Season of the Hurricane' was released in Feb 2004 and went platinum in Ireland in June of the same year. This offered the radio hit 'Everything Beautiful is Burning' produced by Martin Terefe (Jason Mraz, Martha Wainwright, Ron Sexsmith) and went to No. 8 in the Irish album charts. It also found itself nestling at no. 5 in the Amazon internet charts between Norah Jones and the Red Hot Chilli Peppers.
In Feb 2005 Juliet picked up an Irish Meteor Music Award for best Irish Female Performer, alongside artists such as Paddy Casey, PJ Harvey and Snow Patrol and later that year, released "Juliet Turner – Live from the Spirit Store" which achieved gold sales status in Ireland.
Then with three studio albums, a live album, double platinum sales and a Meteor Music Award under her belt, Juliet decided that a change of scene was needed and in October 2006 returned to Trinity College Dublin to undertake a four year BSc in Clinical Speech and Language Studies, during which time she continued to perform live. In 2008 Turner released her fifth album "People Have Names" with producer Keith Lawless. The new batch of songs were warmly received – "a gloriously taut collection of songs" (The Irish Times), "a sweet and subtle album from an artist nowhere near as well known as she should be" (Q Magazine).
Turner's version of Lee Hazlewood's "Sugar Town" featured in the movie "The Nines" with Ryan Reynolds, her recording of "Broken Things" was used under the end credits of the film "Omagh" and her song "Pick a Story" appeared in the short film "Call Me Son".
Turner is currently working on a new collection of songs due for release in 2013.
info@julietturner.comwww.julietturner.com
www.noisetrade.com/julietturner