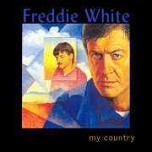 Singer Songwriter
In Ireland, where he has won just about every award going, Freddie White is something of a legend. He was a founding member of Scullion, later he formed The Fake, regarded as one of the seminal Irish bands of the late 70¹s. Next came The Freddie White Band, which toured with Eric Clapton on his Irish Tour.
His first album, 'Live on Tour', recorded by Nicky Ryan while Freddie toured with Clannad, brought him national attention. His second album, 'Do You Do', was the biggest selling Mulligan Label album of 1981.
'Long Distance Runner' in 1985, featured original songs such as "Goodbye This Time", 'Down Without A Fight' and the hit single 'Frozen Heart' co-written with Johnny Duhan. His fourth album, 'Close To You' continued this trend, most of the songs being Freddies own.
In 1994, he released Straight Up, fourteen songs recorded live by Dan Fitzgerald. And now a new all original album, 'My Country' recorded in Ireland, was released in 1999. A collection of eleven songs co-written with Ann O¹Sullivan and based on the poetry of Don O¹Sullivan. The album is co-produced with Declan Sinnot, renowned for his work as producer and arranger with Sinead Lohan, Frances Black and Mary Black, and as lead guitarist with Horslips and Moving Hearts.
Freddie White's popularity has endured for many years and there is a very good reason why ­ he delivers! He has released seven albums to date to critical acclaim, but it is his live performance that stuns. He can rock your socks off, bring tears to your eyes with a ballad, or croon a jazz standard, all the while giving this apparently diverse material a common thread.
One reviewer called Freddie a "musical chronicler of the Twentieth Century". Even this is slightly out of step because Freddie includes in his repertoire some folk music that dates back beyond even that. And his brand new album of original material brings him forward to the Twenty First!
This album "My Country" is regarded by many as his best. But his fans have a great fondness of his earlier releases. His first two albums, which have been unavailable for years (due to contractual problems) are about to be re-released on CD.
Some reviews…
"Freddie White has gathered around him as seriously good a selection of songs as he's ever been privy to, and that's saying something for a man who's kept company with the greats… (this) looks like being his finest album in many years… songs that are at times meditative, low down and funky, and refreshingly reflective on matters that make others shuffle uncomfortably…" – Hot Press June 23rd 1999
"The songs on this album range in mood from very positive and upbeat to very tragic and tender. The song 'Brief Nameless Treasure' is a breathtaking piece of songwriting… always been seen as a very thoughtful, serious singer and writer and this album adds to that impression." – Event Guide June 22nd 1999
"…a superb album that is wide ranging and complex… 'My Country' is quintessentially Freddie White. Those deep expressive tones, the accomplished and always tasty guitar work. One can almost feel his emotion throughout this odyssey of friendship and tribute. Co-producer Declan Sinnott has done what he does best, coaxing the very best out of Freddie, gently embellishing… or tastefully leaving well enough alone…" – Echo June 1999