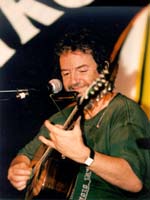 Singer Songwriter
Andy Irvine has been hailed as "a tradition in himself." Musician, singer and songwriter, Andy has maintained both personal integrity and highly individual performing skills throughout his 40-year career. From Sweeney's Men in the mid sixties to the enormous success of Planxty in the 70s, to THE Irish super group, Patrick Street, in the 80s, Andy has been a world music pioneer and icon for traditional music and musicians.
Irvine occupies a unique place in the musical world, plying his trade as archetypal troubadour, with a solo show and traveling lifestyle that reflects his lifelong influence, Woody Guthrie.  Few others can equal his repertoire, Irish traditional songs, dexterous Balkan dance tunes, and a compelling canon of his own material that defies description.
Andy Irvine has enjoyed a long and successful career as a traditional Irish musician. He has travelled the world as a solo artist and as a member of legendary Irish groups such as Planxty and Patrick Street and more recently Mozaik. Throughout his extensive career he has maintained and developed the qualities in his music, which endear him to his audience and fellow musicians alike.  After his introduction to the world of touring with Sweeney's Men in 1965, he continued to travel the world, leaving the band in 1968 to pursue his wanderlust. He travelled through Bulgaria, Romania and Yugoslavia, studying the music traditions and styles of these nations. It was these journeys, which led him to adopt the bouzouki in his performance. This new instrument allowed him to develop his own style while learning that of the Balkan countries he visited.